Friday, July 10, 2020 / by Jenny Carroll
Contributed by Deena Thomas

(Bastrop) As the pandemic continues, The Bastrop County Emergency Food Pantry is looking for community support more than ever. Serving additional people in need, the Pantry anticipates encountering potential shortages.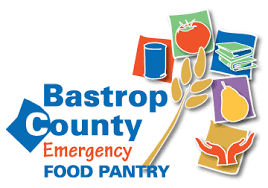 The Bastrop County Emergency Food Pantry is the first and sometimes only line of defense against hunger for individuals and families in crisis—especially now. Clients now receive food assistance through a pre-bagged curbside model that protects the health of volunteers, staff, and clients.


"To ensure the safety of the county's most vulnerable population, the Food Pantry suspended all senior activities and now provides food to at-risk and homebound seniors through a contactless delivery system," Tresha Silva, pantry director said.
Between COVID-19 and the unprecedented lay-offs across the state, the Pantry experienced a 59% increase in requests for services during the first six weeks of the pandemic. The peak in request occurred the first week of April when 80% more people requested emergency food assistance. This increase includes the homeless population as well, which requires specialized food distribution packets.


While the Pantry currently has on stock, two weeks of food to distribute, this stock remains dependent on the food supply chain having the food available for the Pantry to purchase. This may lead to the Pantry needing to purchase food from more expensive vendors outside of their normal chain.


"The programmatic safety changes and the increased demand for services put a financial strain on the Food Pantry," Silva said. "The continued support of the community allows the Food Pantry to continue to provide these vital services to the community without interruptions."


People can show their support for the Pantry by making a financial donation and keep them in mind while you're grocery shopping by picking up some of the items on our wish list found at the website https://www.bastropfoodpantry.org/donate/ .