Tuesday, November 10, 2020 / by Jenny Carroll
Compiled by Deena Thomas, Stanberry Realtors Bastrop
(Bastrop) Unlike past Lost Pines Christmas festivities in Downtown Bastrop, this year, residences and businesses will illuminate the community for almost an entire month in anticipation of a season merry and bright.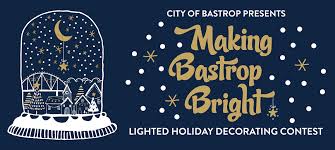 Instead of the annual lighted Christmas parade on Downtown Main as in past holiday seasons, the City of Bastrop presents the first annual Making Bastrop Bright lighted holiday decorating contest. Now's the time to plan and register for the contest through November 30 by 5 p.m.
"I think this year more than ever, our community is looking for a new opportunity to spread the love and joy of the holiday season in a safe healthy manner," Rebecca Gleason, Main Street Director, said. "The City of Bastrop is looking forward to this being the BRIGHTEST holiday season that Bastrop has ever seen."
Visitors and residents alike will be treated to this lighted extravaganza on December 1 through December 25 from 6 to 10 p.m. daily in the Bastrop city limits, The Colony, and Tahitian Village. Besides enjoying the creativity and beauty representing any holiday occurring during the season, festive-goers can cast their votes on the city website for their favorite display between Dec. 1 and Dec. 13 with the contest winners announced on the @DowntownBastrop Facebook page on Dec. 16.
Contest categories include Best Overall, Reason for the Season, Most Creative, Most Animated, Spirit of Bastrop, and Best Business. The stakes are high as each winner will receive a Lowes or Home Depot gift card to purchase more lights to add to their next year's creations.
For those planning to offer a lighted wonderland and participate in Making Bastrop Bright contest, register at www.cityofbastrop.org/makingbastropbright by the end of this month. This special event is sponsored by Maxine's Café and Bakery and Realtor Jana Hellbusch of All City Real Estate.
Another highly anticipated holiday event has been the annual Bastrop Holiday Home's Tour benefiting The Bastrop County Historical Society Museum. But this year, in regard to health and safety during the COVID pandemic, the home's tour will not be a one-day event of touring festively decorated historical homes.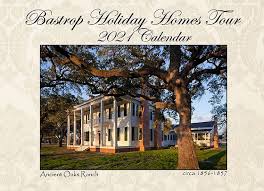 Instead, the tour of homes will be expanded to a 12-month experience enjoyed by the turn of the 2021 Bastrop Historic Homes Tour calendar available now through the Bastrop Museum and Visitor Center of the Bastrop County Historical Society.
Homes showcased in this 2021 calendar include beloved homes featured in past holiday tours such as the Ancient Oaks Ranch home off Highway 304 that dons the calendar cover. One of the highly anticipated events of past holiday home tours is the Friday night Rendezvous honoring gathered sponsors, who represent sponsorship levels of $250 to $1000, and gracious tour host. But this year, since the Rendezvous is not possible, sponsors are represented throughout the pages of the calendar and have received appreciation baskets and calendars for distribution.
Representatives at the Bastrop Museum and Visitor Center look forward to future Holiday Historic Home's Tours and hope that this year's Holiday Homes Tour calendar will mark the time until the next home's tour. These calendars make great gifts and can be purchased at the Bastrop Museum and Visitor Center or by purchasing online at www.bastropcountyhistoricalsociety.com. The commemorative calendars are $25 plus tax and shipping.
---