Friday, April 13, 2018 / by Jenny Carroll
With interest rates on the rise, buyers have been asking, "How do higher interest rates really affect my monthly payment?" The answer might surprise you and it's not as much as you would think.
In this example, we're using a buyer with a 760 credit score putting 10% down on a $300,000 sales price using a 30-year fixed-rate mortgage. The monthly principal and interest payment change is only $18.90 a month per .125% rise in interest rate.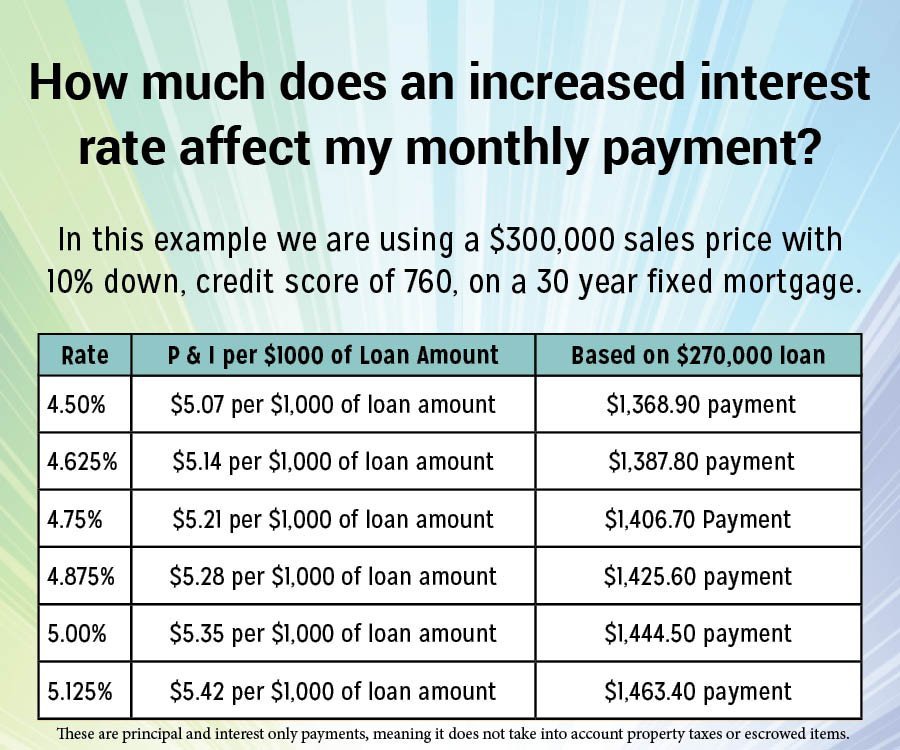 Today's rates are still near half their historical average of over 8%. That provides continued opportunity to lock in very low rates, even if they are higher than in recent history. The days of 4% interest rates are behind us, for now, so maximizing your down payment is a vital component to keeping your payment as low as possible. This is why having an experienced mortgage lender on your team is key to your home buying success. They can help you organize your finances, such as paying down high-interest credit cards or selling off assets, before you lock in your loan in order to secure the lowest rate.
Real estate agents are frequently asked, "when is the best time to buy a home?" and the answer is almost always "right now." With rates on the rise, they are not wrong. Locking in what are still historically low rates saves you money in the long term, especially in a low volume market like Austin and the surrounding areas where demand is high. In a seller's market, housing inventory can drop even faster when interest rates rise as buyers rocket off the fence to lock in low rates. But fear not! The selling season is almost upon us as we reach the summer months and inventory is sure to increase.
Be careful rushing to buy a house in order to simply get the lowest rate. Remember that real estate, in most cases, is a long-term investment that you'll want to hold on to for at least 5-7 years. Finding the right property for you and your family can save you thousands over the life of your loan. The interest rate is only one of the factors that come into play when purchasing a home. Monthly expenses go up when there are a ton of repairs to be done, such as replacing a roof, leveling a foundation, or dealing with termite damage. Contact your favorite Stanberry agent today to get more information on the right buying options for you.
Mortgage example generously provided by Margaret Pryor with Premier Residential Mortgage.