Wednesday, August 4, 2021 / by Jenny Carroll
Contributed by James Witts
Edited by Jenny Carroll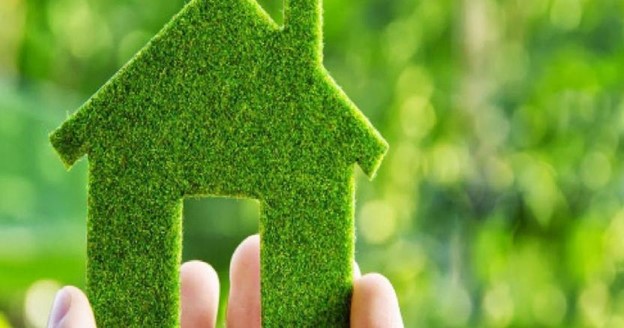 Source
It's easy being green in Austin. The city is set among the lush trees, the limestone, and lakes of the Texas Hill Country. The city government also offers incentives for people to be eco-friendly — from the paint on your walls, the temperature of your home, to the trash you throw out. Here are some tips to make your home more environmentally friendly, thanks to popular programs that are already in place.
1. Composting
The city is happy to pay you to stop throwing out scraps of food and coffee grounds. No, you're not stuck with rotting garbage. Austin's Home Composting Rebate Program will reimburse you $75 on the cost of a composting system. To take advantage of this program, you will have to take a class and buy from an approved local retailer. The benefit? You create a fabulous fertilizer for your garden — and cut down on the amount of trash in the landfill. It's a win-win!
2. Zero Waste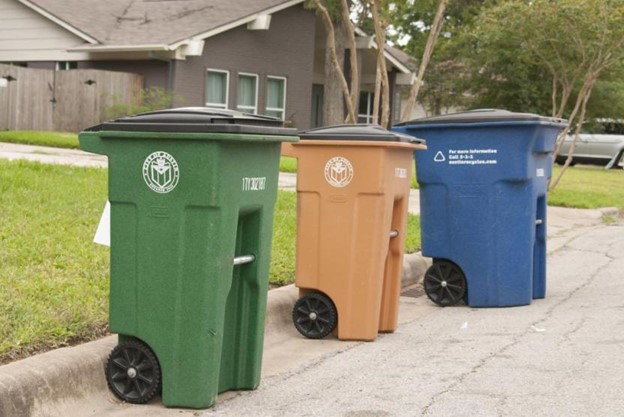 Source
City leaders pledged Zero Waste by 2040. Then came the COVID pandemic and the ensuing extra trash generated by people staying at home. But we can still get to zero waste, even with all the extra takeout boxes and Amazon packaging.

The city of Austin already has the infrastructure in place to help cut down on the amount of trash you send to the landfill. If you're new to town, the color-coding might seem confusing or counterintuitive (the green receptacle is not for recycling.) Recycling — no sorting needed — is picked up in the blue receptacle with your trash collection each week. Trash goes in the brown can that gets picked up once a week. The smaller the brown can, the less you pay for monthly trash service — from $41.85 for the big 96-gallon size, down to $16.90 for the 24-gallon trash can.

The city trash service also picks up yard trimmings once a week. They compost that with treated sewage and create Dillo Dirt, which is sold to commercial landscapers as fertilizer, potting soil, and mulch.
3. Temperature Control

Source
Texas offers incentives for energy-efficient upgrades to Austin homes. That's a huge help in the summer when the A/C will send your electric bill through the roof. Austin Energy gives you $25 for installing a Power Partner Thermostat. You can control this smart thermostat from your phone. You'll get another $85 if you sign up for Power Partner Thermostat energy-saving events. This allows the utility to adjust the temperature setting on your thermostat on summer afternoons by 2 to 4 degrees, easing the strain on the power grid. The program helps the utility prevent power outages and alleviates the need to build new power plants or buy energy from other sources.
4. Paint It Green
Well, actually, you have a choice of three colors, but the Austin Reblend program is an eco-friendly and free way to paint your house. It's recycled old paint that people drop off at the Austin Resource Recovery department. When you're ready to redecorate, the Austin Reblend paint is free and available in Texas Limestone beige, Balcones Canyonland dark beige, and Barton Creek Greenbelt dark green.
5. Reuse, Recycle
Bulk waste pickup in Austin only happens occasionally, but you're not stuck hanging onto items that could easily be reused or repurposed. The city supports the Austin Reuse Directory. It's a program that helps you find places to donate or sell your used clothes and household items. Austin EcoNetwork runs it, but the city supports it and encourages Austinites to use this as a resource to make their homes more eco-friendly. The EPA reports Americans generated nearly 5 pounds of trash a day in 2018 -- and that number continues growing.
6. Landscaping for the Environment
We've all appreciated the shade of a native oak or pine tree on a hot Austin afternoon. A big part of making your home more eco-friendly involves your backyard. Whether you have a fenced-in yard, or a sliver of a patio, planting a few native plants is good for the habitat. It provides food and shelter for insects and animals. It's great for pollinators. And in some instances, the native trees can help preserve moisture or provide some shade to keep your home a degree or two cooler. The rockrose and blue mistflower are easy to grow natives for our climate and they add a dash of color to your home too.

A small container garden might be ideal for a small yard or patio; if you've got a large yard, you might consider something more drastic, like a native wildflower meadow. The city of Austin is trying to do the same thing, so your eco-friendly efforts will be appreciated.

Caring for the environment is more than just a trend in ATX. The city and its people have shown a decades-long commitment to reducing waste and shrinking the carbon footprint.. They are an easy way for the people of Austin to make their homes and the city more friendly to the environment — and save money, too.

What can you do if you live in outside of Austin where you might not have access to some of these programs? Get involved! Contact your City Council and let them know you are interested in implementing these terrific programs in your town.

James Witts is an eco-conscious home improvement writer. He is constantly trying to find new ways to live off the grid while living in a tiny home with his wife, Andie.
---