Thursday, April 9, 2020 / by Jenny Carroll
Compiled by Deena Thomas, Stanberry Realtors® Bastrop

(BASTROP) Springtime at Stanberry Bastrop typically means our realtors, office staff, industry colleagues and friends gather together for fun and support of a good cause at a Paint and Sip and a Bowling tournament to raise funds for Relay for Life of Southern Bastrop County.

This year's Paint and Sip, scheduled for Wednesday, March 18 and co-sponsored by Austin Title Company of Bastrop, along with the April 3rd bowling tournament had to be canceled due to the COVID-19 pandemic, requiring everyone to help flatten the curve of the disease by practicing social distancing and stay-at-home routines.

Our agents are staying connected as an office and apprised of recent real estate developments through their weekly, Thursday Zoom meetings and with their clients, now offering Virtual Home Buying and Selling Programs. Governor Greg Abbott has deemed real estate an essential service, like grocery stores and pharmacies, so agents are able to continue assisting others in buying and selling transactions while practicing CDC guidelines.
But, like everyone else working together in beating this pandemic, our REALTORS® are adjusting to a new normal, and we wanted to share some of their stories.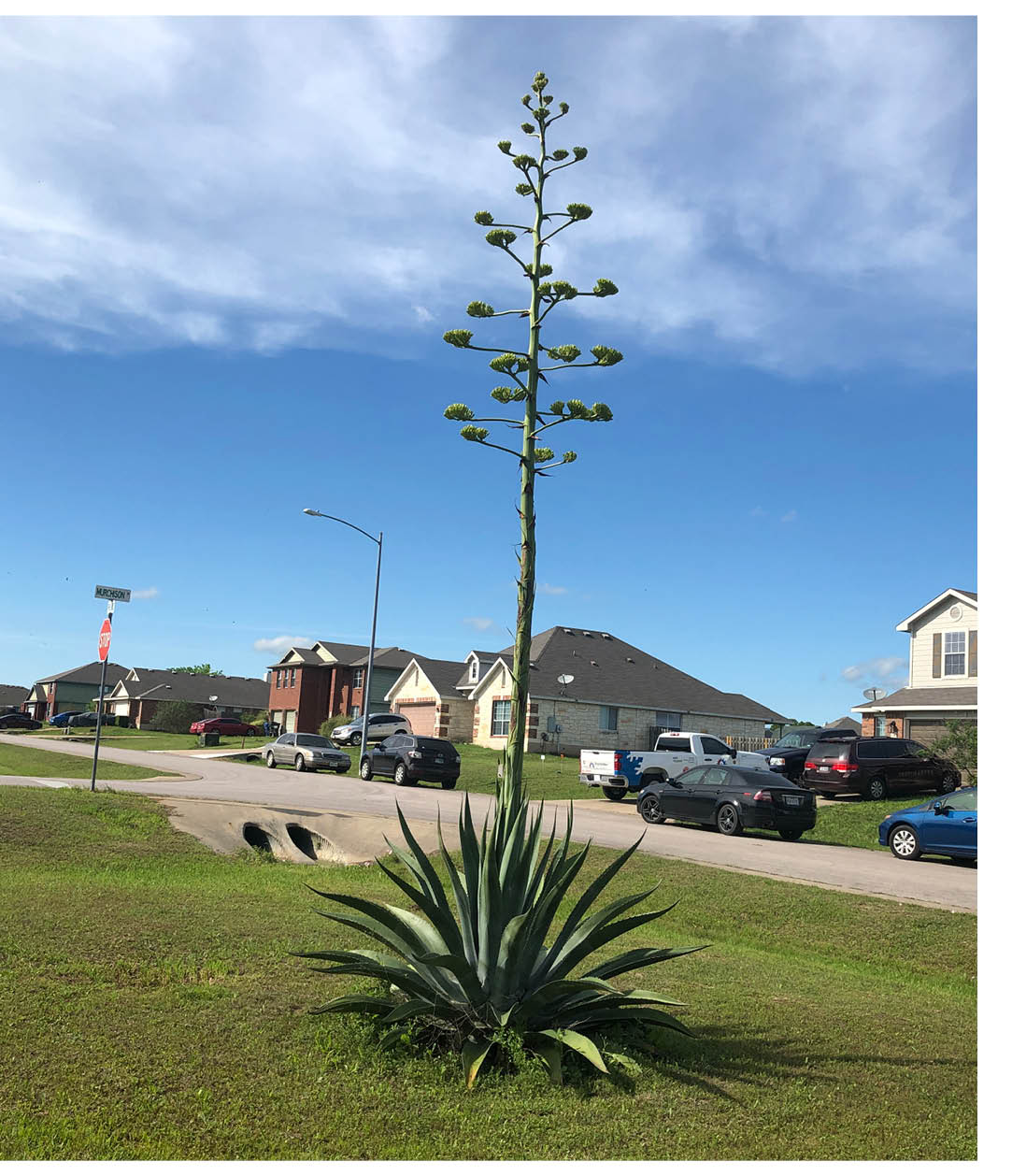 REALTOR
® HELEN MARCUS
When it rains, it pours for Helen. In the midst of this pandemic, she and Phil have had to navigate a refrigerator going out, a washing machine billowing with smoke, and a spider bite resulting in Helen having to go in to see the doctor at his request and being prescribed medicine. But Helen keeps her humor saying at least she could smell the smoke from the dryer, suggesting she wasn't suffering from the COVID-19 symptoms of losing taste and smell. She and Phil are surrounded by the unconditional love of their 3 dogs and 6 cats they care for and are even reaching out to HEB Bastrop about the grocery store's Favor Delivery option they are offering.
Even though Helen is not into gardening, she shared the photo of the Century plant at the edge of her yard and offers this funny story associated with it. She said that she inherited this plant at least 6 years ago, and it sat on a trailer for that long with the plant's roots growing through the trailer. Around a year ago, she and Phil cut the roots to free the plant from the trailer and stuck it in the ground. Now a year later, the Century plant has displayed a beautiful, flowering stalk. She said the plant lived despite her and Phil, just as we all are living a new normal despite this pandemic.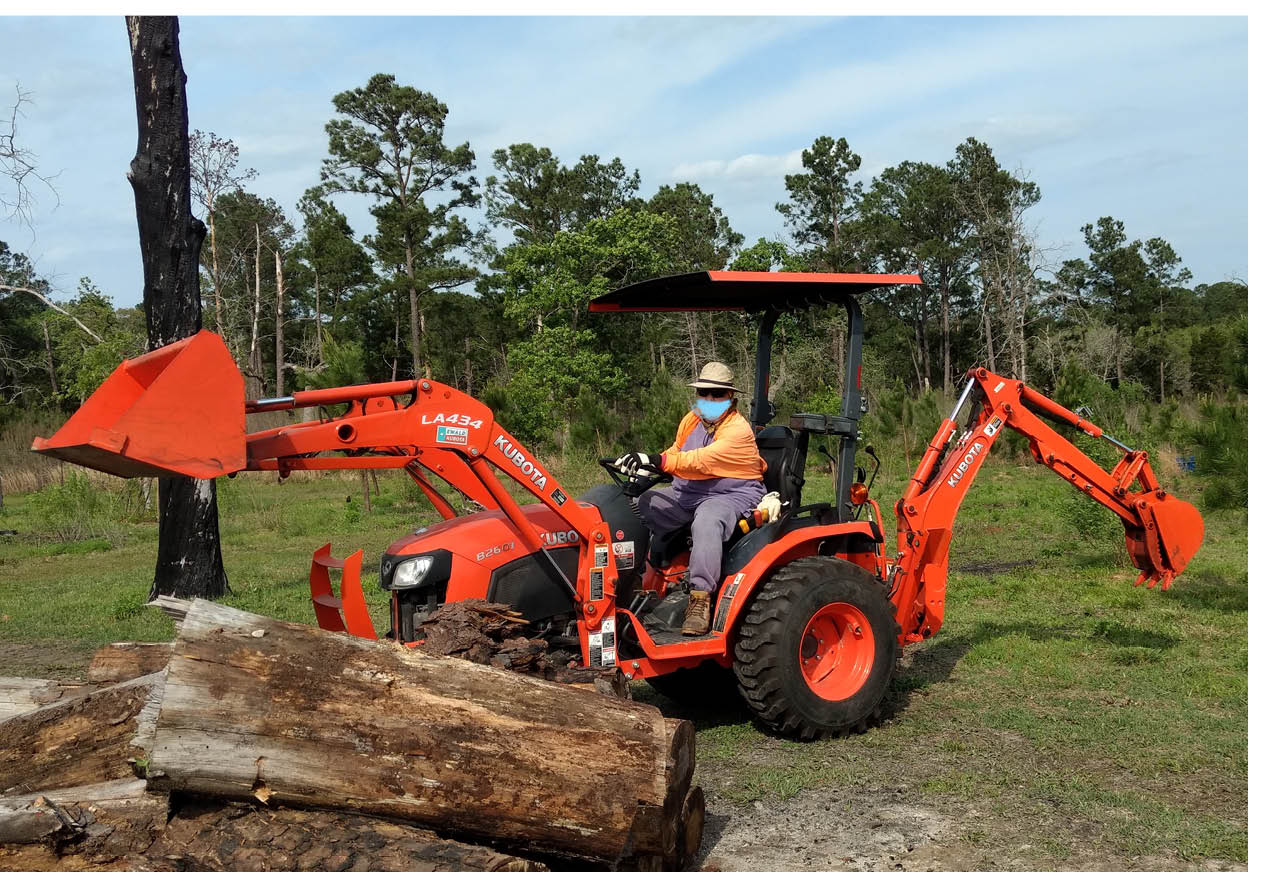 REALTOR
® ROSA IBANEZ
Rosa shared that she and Candace have spent a lot of time on the tractor sprucing up their land around their home. They lost many trees during the Bastrop Fires, so they have spent time taking down dead trees, using a brush hog to clear vegetation and even a log splitter to share firewood with neighbors. They've had a lot of fun working with their equipment.
During this pandemic, Rosa made this suggestion.
"Basically don't be sad and depressed; go out in your own land or block and do some physical work… It really helps!!"


REALTOR
® DEB-DAHLBERG ROLAND
Back in mid-March Deb got sick and then got really sick but is better now. She has been isolated and home for quite some time.
"To be honest it has been a bit scary as there were some cursors of 'the virus.' I have no idea what it was and I don't care to know now that is it behind me. My Hubby was a doll and took great care of me."
Deb is still isolating at home but doesn't feel so lonely now that she knows the whole country has joined her.
"My jumpstart on the isolation helped me adjust to this new normal that everyone else is just a few days into. What do I do to stay sane? The biggest thing for me is NO NEWS! I get my news online. I limit my time of social media as I think there is a scare narrative in place there."
All the while, Deb is at home tending to real estate and studying.
"In the early morning, I do my online work which includes working on my website www.debsellstexas.com. I spend time in the morning also educating myself online working towards my brokers' license. When it is a decent hour I reach out and communicate with other agents, check the hot sheets, watch new virtual tours and browse the listing service to keep my pulse on the market. I am trying to reach out to a few of my past Clients every day to check on them and I am following up with new Buyers and Sellers who have found me online. Even as crazy as these times are, I have had two closings since all this has started and the Escrow companies and lenders that I have worked with have been amazing."
But Deb isn't just business. She has found time to nurture herself gardening, walking with Stewie, her 2-legged chihuahua, grooming and working horses daily, reading and even soaking her old, worn-out knees in the tub. She and her friends even choose a take-out meal from a favorite restaurant and meet on the porch safely apart while they catch up on the week.
Deb reminds us of this.
"I say my prayers every day that all this shall pass soon and that everyone stays say. I know in my heart of hearts this will pass soon. God Bless."

REALTOR
®

JILL WALLES
Jill said she is definitely realizing so many things she's taken for granted!
"Apparently, I really enjoy people and getting out of my house. I look forward to eating out again, shaking hands, hugging, church, sporting events, having plenty of toilet paper...so many things. Lol &#128514."
Even so, she counts her blessings.
"At the same time though, I realize I am ridiculously blessed. Most of my woes right now are simply just inconveniences. I am 'stuck' on 40 beautiful acres during the prettiest time of year. I am getting plenty of sleep these days and many of the chores that were on the back burner are getting knocked out."
Regarding real estate, Jill is adjusting.
"We are blessed with so much technology and accessibility these days that we almost aren't missing a beat. I do miss the personal connection and the face to face time with colleagues and clients. But I know soon enough, we'll be back at it, face to face. Until then, stay home, stay sane and try to appreciate this forced break! Maybe it will help us sort out what REALLY matters."

REALTOR
®

ED DE LA GARZA
Ed's new "normal" is enjoying working from home while his wife homeschools his children including his granddaughter.
"As everyone is adjusting, me and my family reflect on the importance of being together, making memories, slowing down, and focusing on blessings," Ed said. "Our house is full of laughter and learning!"
As a new agent, Ed continues monitoring leads on possible sales/purchases and is looking forward to continuing to get his name out to potential clients.

REALTOR
® BRIDGET COCKREALL
Before this pandemic, Bridget and her husband were heavily invested in numerous business projects but now they have had no choice but to tighten up, strap down and stay put.
They are finding this downtime spent on their newly acquired 13-acre property home on the Colorado River pleasing.
"The isolation here is actually pretty amazing It's like we're on a vacation getaway, It's a jungle with singing birds, beautiful butterflies, herds of deer and a bald eagle across the river bank! We finally got time to put the boat in the river and just cruise. We found a perch hole, so now we fish our bait then fish our dinner; lol it's pretty cool!!"
As Bridget reflects on the current situation, this is what she offers.
"Hopefully America is going to get through this stronger than ever sooner than later. Our prayers center over the world's health, strength and come back. In God we trust! We will never forget the invisible bug that took so, so much. God be with us all."

REALTOR
® EDGAR DIAZ
Edgar offers some practical advice. "I suggest to all to spray the bottom of the shoes with a bleach mix and water or other cleaning spray and leave them outside or put shoes in an enclosed container. Spray the container too for better results."
As people experience uncertainty during this time, Edgar's family faced the reality of having to say goodbye to his father who had been ill for an extended time not related to COVID-19.
"Thanks LORD! That my father pass away sounds last Saturday. And Thanks because he was suffering a lot REST IN PEACE: MOISES JORDAN DIAZ!"

STANBERRY CEO SHARON ROSSHIRT
For Sharon, initially she had some fantasy that staying at home meant she could bake, organize, and play her guitar.
But the reality for her as Stanberry CEO is to stay apprised of the real estate market and trends while keeping Stanberry agents informed.
"I am using all my tools to focus and stay centered! There are new contract concerns and forms. We are using Zoom meetings to stay connected as a brokerage. There is so much new information that is helpful, like the unemployment for agents and two emergency relief loans for Stanberry. One covers payroll for several months!! "
But like all of us, sometimes a break from the new norm is what's called for.
"When I'm starting to get overwhelmed, I just try to get out in the garden for a little while. I have unwavering faith that we'll get through this."

IN CLOSING
One thing is for sure. Adjusting to a new normal can be rather scary and stressful. But the Stanberry family is taking care of themselves and each other. Each agent looks forward to assisting those with their buying and selling needs even during this time calling for alternative means of contact. See us on social media or Stanberry.com to learn more about our Virtual Home Buying and Selling Programs or call us at 512.303.5065, and we can talk through the process. Together, we can get through this crisis.