Tuesday, September 11, 2018 / by Jenny Carroll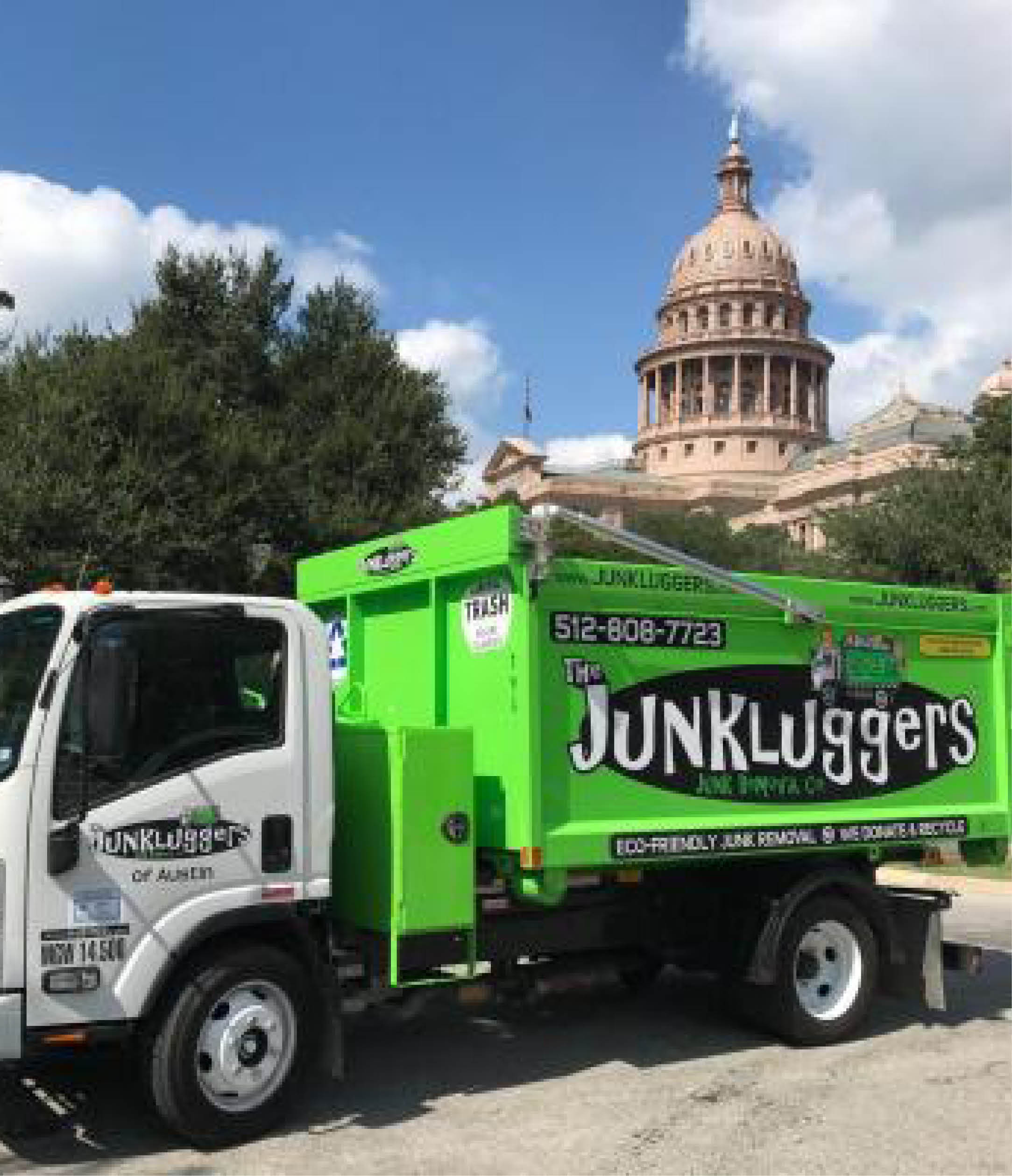 We don't typically think much about trash removal or hauling junk until something happens and we need to have it handled as quickly as possible. Usually involving a dramatic life change, it could be a divorce, a death in the family, massive spring/fall cleaning or any number of reasons leading to the impersonal collection and the inevitable disposing of our belongings at the dump somewhere outside of town. Not exactly inspiring, right?

Well, Laura Chavez with Junkluggers Junk Removal Service will change the way we think about trash. Junkluggers is relatively new to Austin but we can promise you that you'll be hearing a lot more about them soon! Originally started in 2004 in Connecticut, the company rapidly outgrew its small hometown and in 2013 expanded to franchise opportunities nationwide.

After rejecting 3 other franchise possibilities, Laura was presented with the Junkluggers business plan by a franchise broker. Coming from a background in health and nutrition, Laura was leery at first of becoming the "trash lady." However, once she looked at the mission statement and business model she knew she'd found a perfect fit and her new company, Junkluggers Austin, was born.

What is the Junkluggers mission?
It's so good you're going to wish you'd thought of it yourself. Their mission is simple, "To save the Earth, one piece of junk at a time. By 2025, we aim to donate and recycle 100% of all items we remove from residential and commercial jobs, setting the standard in the United States for eco-friendly disposal practices. We are working towards this goal every day, searching for new charities to donate to and more environmentally friendly ways to dispose of materials we lug away that can be neither donated nor recycled."

Laura has taken this mission and run with it and Austin is reaping the benefit. "It's just been so rewarding. Every week it seems like we find a new non-profit in need. We work with charities all over town and we're constantly searching for more," she said, " and the work really begins after we pick up the items."


What do they do with the stuff they pick up?
Laura and her team of clean-cut, background checked luggers gently remove furniture, trash, lawn debris, and even dirt and bring it back to their warehouse in NE Austin where the items are separated and reallocated to various non-profits all around Central Texas. "When we show up at a job, my guys are trained to treat all items they pick up as though it were their mom's or grandmother's. You never know what the situation is that you're working with and we pride ourselves on being sensitive to any emotional attachments people have with their items," Laura said. "If you're cleaning out the home of a deceased loved one you can't just go in and throw those memories around. We handle everything with care so that it can be reused or repurposed by someone in need."

This is the goal of our national recycling program embodied. Reduce, reuse, recycle is written in that order for a reason. We strive to reduce the amount of resources we consume, reuse and repurpose resources when and where we can, and recycle those items we can't find a new use for. Recycling is last because it is by far the most expensive in both currency and energy to achieve. Junkluggers built their entire business around this vital tenet.



Who are they helping?



Junkluggers Austin has helped organizations across Austin and Central Texas. From Austin Pets Alive!, Austin Disaster Relief Network, the Assistance League of Austin, Mobile Loaves and Fishes, The Refuge, Goodwill Industries, the Salvation Army, and Habitat for Humanity to name a few.

They can help you with your removal needs, too. Have some items you want to donate but don't want to deal with the hassle of a yard sale or Craigslist? You can hire Junkluggers to come graciously remove any unwanted items and know that they will be given new life with folks that have a genuine need. Plus a portion of the cost can even be recouped with the tax-deductible receipt you get with each removal service.


Laura Chavez and her Junklugger family truly shine as an example of a company doing meaningful work in our community. As a family-owned company ourselves, we value organizations and individuals that share the same altruistic passion we have. We are thrilled to have found Junkluggers and know that our clients and peers will continue to benefit from companies like Laura's who are looking after our precious planet and lovingly handling our junk.

Give Junkluggers Austin a call today for a quote or check them out online here.