Thursday, January 14, 2021 / by Jenny Carroll
With the New Year comes a new form of public transportation in Bastrop, TX. Electric Cab of North America has joined the Capital Area Rural Transportation System (CARTS) in a pilot project funded by a partnership with Lone Star Clean Fuels Alliance, the Texas Department of Transportation, and the US Department of Energy. CARTS, a public transportation system, serves urbanized areas of nine Central Texas counties, including Bastrop.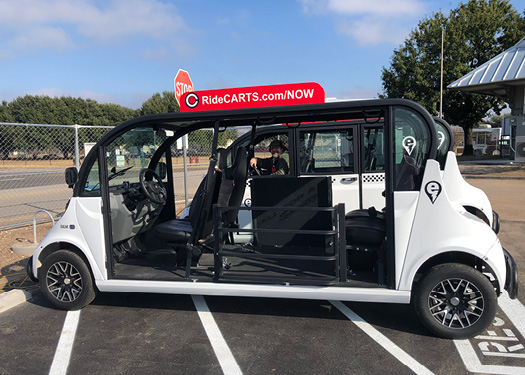 Bastrop's micro-mobility project, called CARTS Now, offers on-demand, point-to-point travel within a designated area of the Bastrop city limits that includes residential, retail, and medical facilities. A portion of that broader area will include a limited electric vehicle service zone. CARTS Now introduced one of its electric vehicles on Dec. 14
th
; the second will With their open-air designs and maximum speeds of 35 mph, the electric vehicles provide convenient and easy transportation for casual travel.
Curb-to-curb service is available Monday through Friday, 7 a.m. to 7 p.m. at a cost of $2. per person, cash only. Residents may request rides through the CARTS Now app or by calling (512) 478-RIDE.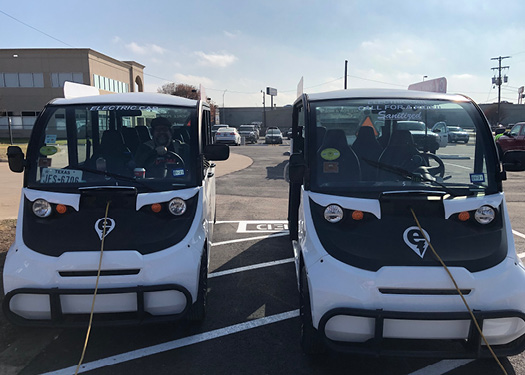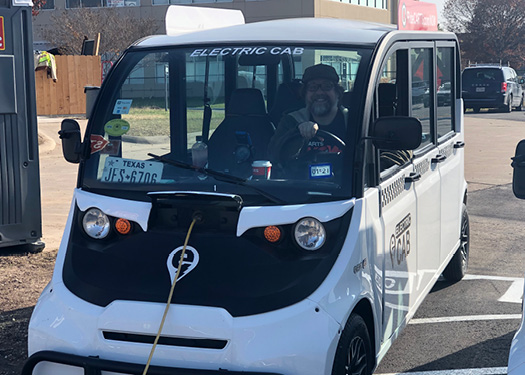 Additionally, CARTS provides services on its Interurban Coach, Country Bus, and Commuter Routes. The Interurban Coach offers routes between Austin, Bastrop, Bertram Burnet, Elgin, Georgetown, Giddings, LaGrange, Liberty Hill, Lockhart, Luling, Marble Falls, Round Rock, San Marcos, and Smithville. Registered CARTS customers commuting to Austin on the Interurban Coach may access connecting service on the Grasshopper to reach specific destinations within the city.

Photos taken by Randy McDonald, Stanberry & Associates, on CARTS Now's 1
st
day of service in Bastrop, TX.
---